CHARM AND ELEGANCE FOR A CONTEMPORARY DESIGN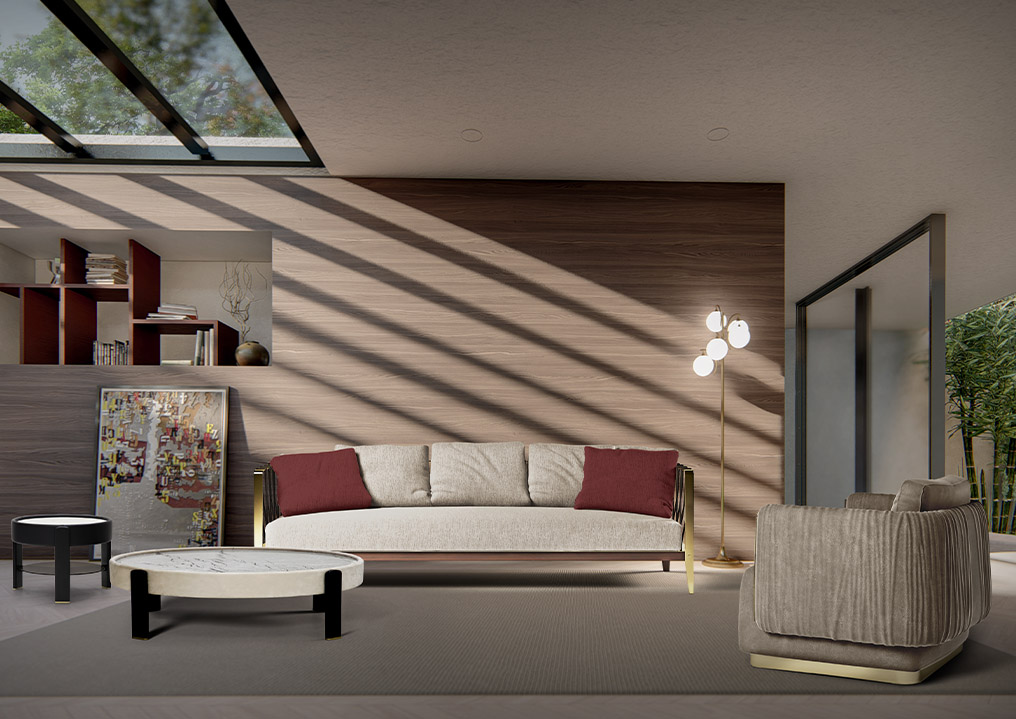 The stylistic research aims, once again, for the charm and the elegance of a linear and contemporary design. A research which wants to combine beauty and functionality emphasizing forms which are seemingly simple, by means of handcrafted and unique manufacturing, the impeccable result of a proudly Made in Italy tradition. The choice of materials is still an identification element of the Glamour Collection by Formitalia: shiny and satin finished metals, natural stones, open pore woods with various shades, hand aniline treated leathers and exclusive top-quality fabrics available in more than 50 colours. Various refined options which lead to the utmost customization of each item of the place to be furnished.

A collection of upholstered items characterized by an elegant metal frame with a satin finished champagne gold finishing embellished by leather element along the sides and the back. The wooden basis suggests the distinctive trait of the rear metal small feet as the continuation of the frame itself thus offering a visual impact which is unusually bright. The upholstering of the seat and of the cushions is made of fabric with a choice among more than 50 colours.

The form is the one of a warm and comforting hug. JACQUELINE/B is an armchair which stands out for its elegance and personality. It can easily integrate in various furnishing contexts, it attracts thanks to its soft design and to the excellent attention paid to any detail, from the choice of materials to the flawless finishing. With its linear metal basis, JACQUELINE/B is completely upholstered with leather and shows a special "pleated" manufacturing of the enveloping element which works as back and armrest.

KEAN, Set of Occasional Tables
Interesting collection of small tables characterized by the perfect combination of different materials. Marbles, leathers, and woods marry mutually to create a series of extremely refined items able to interpreter the living area with elegance and functionality. The new KEAN small tables are suggested with a top made of marble and embellished by a leather upholstered edge as well as by legs made of black ash with open pore finishing, in the low version and in the higher version with a glass shelf. The wide variety of coloured leathers and marbles allows the utmost customization of the item.